Is it not a cumbersome process to share your students data to companies in an excel sheet time and again?
Effective ways of promoting your students
The most important tasks for a college is to train, assess and promote its students. While each of the tasks is tedious, colleges so far have been forced to accomplish them manually. To bridge the gaps and to smooth the process, ReferenceGlobe created a platform to facilitate easy and time saving methods to achieve the targets set by the colleges. Of the tasks mentioned, the most difficult is providing assessments to the students and to promote them. Colleges have to compile information, create an excel worksheet time and again with required information and send it to companies over and over again. To overcome the problem ReferenceGlobe created a feature called PROMOTE YOUR STUDENTS.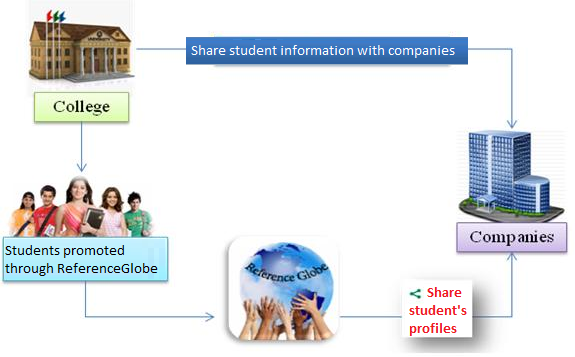 How can Reference Globe help you ease the process?
"Promote your students" is a very useful feature that empowers your college through data centralization by managing student data segregated department wise. This makes the process of data sharing less tedious as a few clicks can get the job done. Also, it will subsequently result in reducing the turnaround time with a company.
ReferenceGlobe customized your requirement and made the process user friendly. A web page is created for your college with all the data pertaining to your students including their online CVs and video resumes for companies to view. Companies can contact the students directly and can also conduct assessments through this feature.
All the information sent as web page to companies reduces data redundancies and effort. There is no need to send the data in an excel sheet any more. The advantage of using a web page is that data sharing can be customized based on the requirement of a company, at any given point of time.